Surveying in 1873
Jump to navigation
Jump to search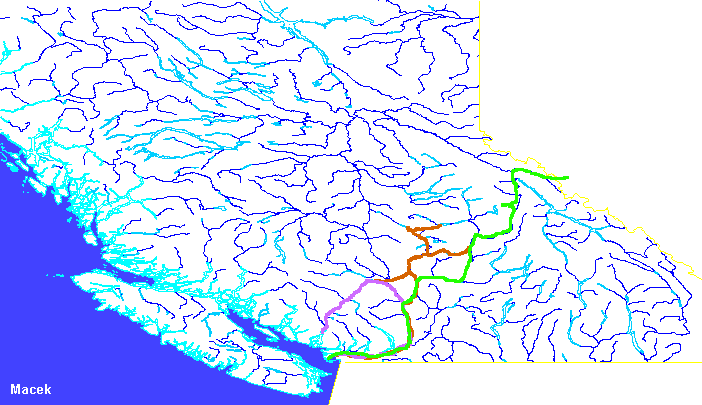 The Survey Crews
M
(Red)This survey party left Victoria on July 1st, 1873 under E.W. Jarvis (more on E.W. Jarvis) with Mr. John Trutch (more on John Trutch) as commissary. They travelled up the Cariboo Road just past Cache Creek and were camped at the mouth of Hat Creek in the Bonaparte Valley on July 8th. From there, they surveyed west towards Lillooet and had made it past Lillooet to Seton Lake by the 3rd of August. This survey was connected with the work by survey party X under Gamsby later in the season.
They back tracked to the Bonaparte Valley and surveyed up the Bonaparte River towards its headwaters near the North Thompson (about 70 kilometres north of Kamloops). They were 20 miles up the Bonaparte River on August 22nd. On October 18th they were at Bridge Creek after connecting to the North Thompson. It isn't clear how they travelled from the North Thompson to Bridge Creek which is on the Cariboo Road.
Their next task was to survey from Lac La Hache to the Clearwater River drainage.
S
(Green)This party had wintered east of the Yellowhead Pass and was under the leadership of Walter Moberly (more on Walter Moberly). They had arrived in early January and were surveying east towards Edmonton. It is unclear if they worked all winter. On July 29th a messenger from Marcus Smith ordered them west to survey a new route past Moose Lake just west of the Yellowhead Pass. They arrived on location on August 18th and had completed the survey by October 14th. On their way back to Victoria, a short detour was made up the Albreda River but snow storms and heavy snow made them turn back. They arrived in Victoria on November 10th. The party had left Victoria during the summer of 1871 meaning they were in the bush for over two years without break. An interesting exerpt from Surveying the Canadian Pacific, a journal by Mr. Rylatt (more on Rylatt) a member of the S Party:
"Fires had to be kept going the entire night, as the wolves are congregating somewhat thicker than is agreeable, and have attacked the pack animals during the nights" - p179 Entry for May 8, 1973 of Surveying the Canadian Pacific
On May 14th, two member of Moberly's party, Henry Baird and RM Rylatt left for Victoria via the North Thompson reaching Kamloops on June 14th. The rivers and creeks were all in full flood and they had almost starved to death before reaching civilization. This journey can be followed in great detail in Surveying the Canadian Pacific.
X
(Pink)This party was working under Mr. Gamsby (more on Gamsby). They travelled by steamer from Victoria to Squamish at the head of Howe Sound on July 28th. By about October 21st they had completed a survey to Seton Lake where it was connected to the survey by the M party completed in early August. The modern day BC Rail follows their route from Squamish, past Whistler, Pemberton to Lillooet. From Lillooet it was a quick trip by boat down the Fraser River to Lytton and by Cariboo Road to Yale, reaching there on October 30th. They finished the season back in Victoria.
This survey party had the assistance of a trail cutting party under Mr. Joseph Hunter (more on Joseph Hunter) that had arrived in Squamish on July 12. On September 24th the trail party was in Clinton. The route of this group is not shown on the map.
The People
Led S
Marcus Smith made many trips all over British Columbia as part of his job as Supervisor of Surveys in British Columbia.
References
Appendix H: Detail Report of the Surveys in British Columbia for the year 1873 by Marcus Smith