Surveying in 1871
Jump to navigation
Jump to search
British Columbia joined confederation on July 20th of 1871 which meant the survey crews had a short first season. The main focus was to survey a possible route across the province. This route consisted of the Yellowhead Pass, the North Thompson to Kamloops, the Thompson and Fraser rivers to Burrard Inlet. A second was also being examined through the Howse Pass, down the Columbia River, through the Eagle Pass to Lake Shuswap then down the South Thompson to Kamloops.
The region was divided into three groups:
Eastern Region - Eagle Pass, Selkirk Mountains, Howse Pass - under Walter Moberly (S and T)
Northern Region - North Thompson, Yellowhead Pass, Cariboo - under Roderick McLennan] (Q and R)
Southern Region - Fraser and Thompson Canyons to Shuswap Lake - under John Trutch (U and V)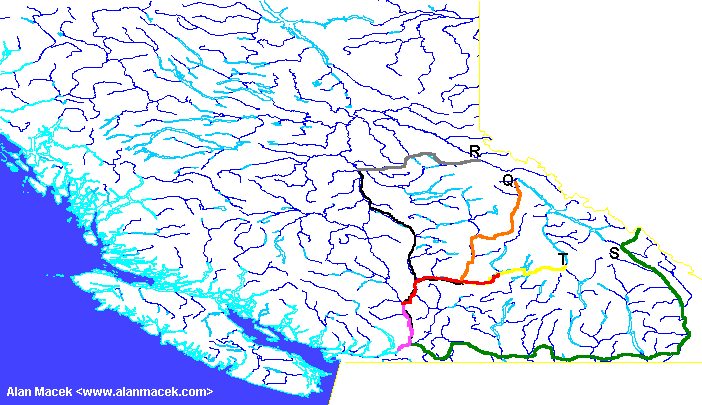 The Survey Crews
Q
(Orange)This group was tasked to explore the North Thompson. Under Roderick McLennan, this group arrived in Victoria from eastern Canada on July 9th. Because of difficulties getting supplies and securing pack trains, they did not arrive at the mouth of the Clearwater River on the North Thompson until the 31st of August. By September 13th they were at the mouth of Blue River and 5th October on the Albreda River. A week later, a small group including McLennan travelled light to Moose Lake in the Yellowhead Pass and returned to the rest of the group on October 26th. They were expecting to meet R at Tete Jaune Cache but 'R' was delayed.
The group wintered on the Canoe River with Mr. Green in charge. McLennan left the group for Kamloops November 2nd, arriving November 15th and was back in Victoria on December 4.
R
(Gray)Under the leadership of Mr. James Mahood (more on James Mahood), this group travelled to the Cariboo and left to the east from Barkerville on August 23rd. They travelled via Bear Lake (now Bowron Lake?), Indian Point Lake, Big Lake (now Isaac Lake) to its outlet in what is now Bowron Lake Provincial Park. They reached 'Dominion Pass' on September 29th and suffered week long snow storms in early October. They then explored down Castle Creek to the Fraser River on November 20th. The group wintered on the Fraser River near the month of Castle River. They were expected at Tete Jaune Cache to meet up with Q but were delayed by their late start and weather in the pass.
Mr. Mahood left his group and returned to Barkerville in early December and headed south. He arrived back in Victoria on the 12th of January.
S
(Green)This group was led by Walter Moberly who arrived in Victoria on July 13th. The group arrived on the mainland between July 20th and 25th and left Hope for the east Kootenays on July 31st toward Wild Horse Creek (now Fort Steele?) along the route of Highway 3. While Moberly was in the lower Fraser, he arranged and sent supplies north to McLennan's R, Q and Moberly's T. Moberly went through the United States and sent supplies north to 'Big Eddy' (now Revelstoke) for his T party. Moberly rejoined 'S' at Wild Horse Creek on September 13th. At 'Boat Landing' (near Invermere?), boats were used to move their equipment. On October 2nd they were at the month of Blaeberry River and build a winter camp for their supplies while they continued to work into the fall. The build trails and supply stations up the Blaeberry River to the height of land at Howse Pass.
Moberly and some Indian guides continued over the Howse Pass to 'Kootenie Plain'. He explains the small party.
"I did not take any of my party, with the exception of the above [mentioned] Indians, as I did not want to endanger them, should the snow fall before I got back; and in all my mountain explorations I have found that I can move much more rapidly when not encumbered with white men." (p31 - Fleming (1872) - Report)
Moberly attempted to meet his brother on 'Kootenie Plain' on October 19th but did not find him. On November 6th the entire party was back at the Columbia River Depot for the winter. They attempted to move the remainder of their supplies down the Columbia from 'Boat Landing' to their camp until the river froze on November 13th.
After setting accounts, Moberly left on December 3rd by snowshoe down the Columbia River. Rather than walking around the big bend, he passed through a pass in the Selkirk Mountains north of Roger's Pass. On December 22nd, he arrived at 'Big Eddy' where T was wintering. Between December 29th and January 9th, Moberly walked over Eagle Pass to Kamloops, returning to Burrard Inlet on January 21st.
T
(Yellow)Under Walter Moberly's direction this group travelled with S to Hope and then up the Fraser Canyon with McLennan's Q to Kamloops. 'T' left Kamloops on August 7th for the west end of Eagle Pass. They were to survey the pass and along the right bank of the Columbia River to 'Boat Encampment' (the northern point of the Columbia River's loop around the Selkirk Mountains). The group was under Mr. Edward Mohun (more on Edward Mohun). They wintered at 'Big Eddy' (now Revelstoke) after surveying Eagle Pass. Moberly passed through their camp late in December.
U
(Red)This group was under John Trutch and under the charge of Mr. Hurd (more on Hurd). This group was tasked with surveying between Lytton in the Fraser Canyon to Eagle Pass. They started work at Lytton in early September. Trutch found them 12 miles north of Spences Bridge on October 15th. On November 9th, Trutch found them at the Cherry Creek bluff on Kamloops Lake. They completed to the foot of Shuswap Lake on December 4th for the season. They returned to Victoria on December 16th.
V
(Pink)Under John Trutch and under the charge of Mr. Homfray (more on Homfray), this group was to survey between Burrard Inlet and Lytton. On September 9th they started at Yale and worked toward Lytton. On October 19th they completed to Lytton and started south from Yale toward Burrard Inlet. In early November, Trutch met the group at 'Sister's Rocks' ten miles below Yale. In early December, Trutch found them wintering at Yale and ordered them back to Victoria where they arrived on December 20th.
Trutch was in charge of the region from the lower Fraser River to Eagle Pass. He left Victoria on September 5th and set up two survey crews U (under Mr. Hurd) and V (under Mr. Homfray). Trutch travelled to Kamloops and then explored the region around Little Shuswap Lake toward Eagle Pass. He then explored up the Salmon River to Nicola Lake and to Spence's Bridge by October 15th. He met 'U' 12 miles north of Spence's Bridge and 'V' having just completed their survey to Lytton. Trutch returned to Victoria by October 23rd and back to Yale on November 3rd. On route, he met 'V' at 'Sister's Rock' 10 miles below Yale. On the way to Kamloops, he found 'U' working on their survey at Cherry Creek bluff on Kamloops Lake on November 9th. After assisting with 'U' to the food of Shuswap Lake, he returns to Yale on December 7th and Victoria for the end of the season.
Moberly was given charge of the south eastern region of the province and was in charge of two survey crews, S and T. He dispatched 'T' to survey Eagle Pass and stayed with 'S' as they made their way to Howse Pass in the Rocky Mountains.
McLennan was in charge of two survey groups, Q and R. He stayed with 'R' for most of the season.
References