Thompson River
Jump to navigation
Jump to search
The Thompson River is a major tributary of the Fraser River in the south-central portion of British Columbia, Canada. The Thompson River has two main branches called the South Thompson and the North Thompson.
The river is named for Columbia River explorer David Thompson.
Geography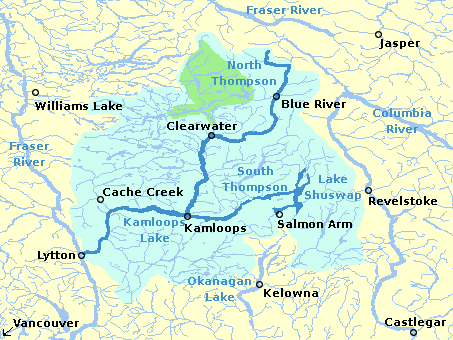 The South Thompson originates at the outlet of Shuswap Lake and flows approximately southwest for 55 km through a wide valley to Kamloops where it joins the North Thompson. Highway 1, the Trans-Canada Highway and the mainline of the Canadian Pacific Railway parallel the river. The major rivers flowing into Shuswap Lake are the Shuswap River from the south, the Seymour River flowing into Seymour Arm at the north of the lake, and the Adams River which enters the lake from the north near its outlet.
The North Thompson originates in the mountains west of the community of Valemount and flows generally south towards Kamloops and the confluence with the South Thompson. For most of its length, the river is parallelled by Highway 5, and the Canadian National Railway. The North Thompson valley provides the primary connection from the southern parts of the province with the Yellowhead Pass, the lowest pass through the Rocky Mountains. The major tributary is the Clearwater River which joins the North Thompson at Clearwater. Most of the Clearwater drainage is protected by Wells Gray Provincial Park.
At Kamloops, the combined Thompson River river flows west to Ashcroft and then south to the confluence with the Fraser River at Lytton. The river is parallelled by the Trans-Canada Highway, the Canadian Pacific Railway and the Canadian National Railway. Just west of Kamloops, is the Kamloops Lake, stetching roughly 30 km in length, ending at Savona. From the open valley at Savona, the river begins to enter a canyon near Ashcroft. The Trans-Canada leaves the river for a short distance to reach Cache Creek. From Ashcroft to Lytton, the river is completely confined to its canyon making for spectacular scenery. The major tributaries along this section are the Bonaparte River joining near Ashcroft and the Nicola River joining from the south at Spences Bridge.
At Lytton, the Thompson River joins the Fraser River, flows south through the Fraser Canyon to Yale and then west through the Fraser Valley to the Pacific Ocean at Vancouver.
See Also
See the Wikipedia article on.